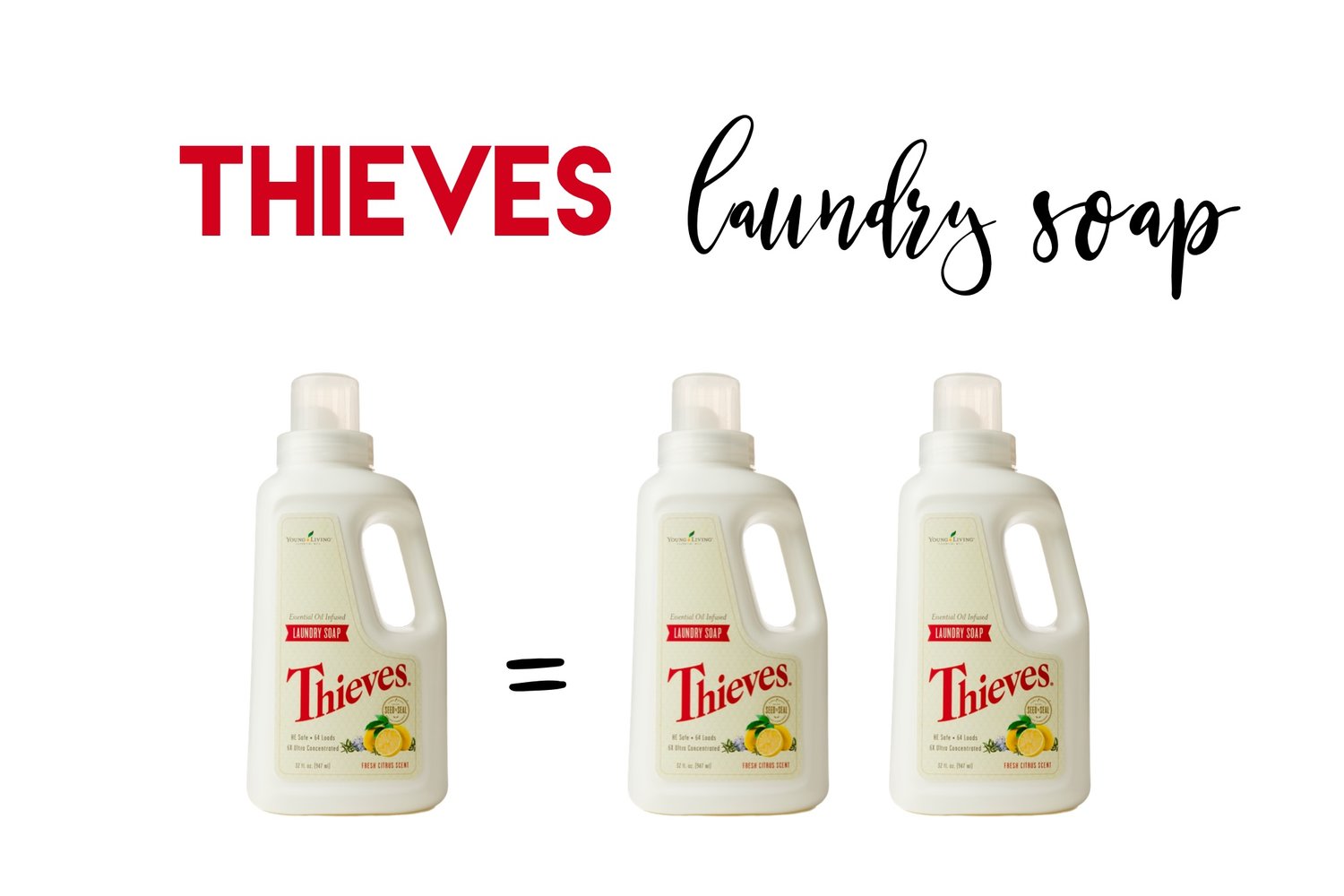 Thieves Laundry Soap is a super powerful, ULTRA CONCENTRATED plant based formula, infused with essential oils. The formula is also unique for what it DOESN'T include. It won't leave behind any harsh chemical residue because it doesn't contain any. Pure for your family. Strong for your life!
Thieves Laundry Soap is free from….
– SLS (Sodium lauryl sulfate/a>
– dyes
– petrochemicals
– formaldehyde
– phosphates
– synthetic perfume and
– optical brighteners
Most cleaning products on the market, including laundry soap and fabric softeners, can be some of the most toxic products in our homes, even those brands that claim they are "free and clear" or 'natural'. Be advised, when you see these words keep in mind that there is zero regulation behind the use of these words so it means NOTHING!
Thieves Laundry Soap is the perfect blend of natural enzymes and powerful essential oils. They combine to make this powerful formula, leaving your clothes fresh and clean with a light citrus scent. The formula uses the power of Thieves, Jade Lemon™, and Bergamot essential oils. Its safe and can be used in all washers, including high-efficiency, and its ULTRA concentrated formula (6X) will provide around 64 loads with just 32 fl. Oz (946 ml)
Just for fun I decided to compare a similar "natural" bergamot laundry detergent… so I looked it up using the EWG app- on www.ewg.org/skindeep. Use it to plug in your current household cleaners, fabric softeners, personal care items and makeup. I found that it scored a "D" rating (with F being the worst). So don't be fooled! Many laundry detergents, even so-called natural ones, contain harsh chemicals & toxic compounds that have been shown to be harmful to the human body. I say kick them to the curb and make the switch to Thieves Laundry Soap!!!
Thieves Laundry Soap HACK to save you $$$

Now remember, this ULTRA concentrated formula already provides around 64 loads with just 32 fl. Oz (946 ml) and works just fine, without this hack.
But, if you're interested in getting the most bang for your buck this tip not only helps boost its effectiveness but will DOUBLE THE AMOUNT, saving you money! I don't know about you but anytime I can kick toxic chemicals to the curb and also save money I'm like… "What's not to love about that, right? Tell me more!"
HACK FOR DOUBLING YOUR THIEVES LAUNDRY SOAP
If you have a regular washer this hack will stretch it to make 128 loads instead, at just $0.25/load. If you have an HE washer you'll get 256 loads at a cost $0.12 per load! SAY WHAT!!!! Yep, that's right! Here's how…
STEP ONE
Optional- Useful for especially tough jobs or heavily soiled laundry. Add 2-3 capfuls of Thieves Household Cleaner to 2 cups of distilled/filtered water.
STEP TWO
To make your first batch you'll be using 2 cups (16 oz's) of the laundry soap. First you need to remove half of the laundry soap (16 oz's/2 cups) from the container and store in a glass mason jar, or a leftover empty, clean Thieves Laundry Soap container; leaving the remaining 2 cups in the container.
STEP THREE
Combine the water with Thieves Household Cleaner with the remaining soap in container (2 cups); and thoroughly mix. I prefer to combine the laundry soap and distilled/filtered water (with Thieves Household Cleaner) in a large 8 cup glass measuring bowl, stirring until well mixed but you may wish to simply combine two right in the laundry soap container, however do not shake! Just gently tip container back and forth until thoroughly mixed. (If using a bowl, after mixing pour into laundry soap container.)
STEP FOUR
Use as directed on bottle

MORE TIPS
-You can make your laundry soap in 32 0z. pump dispensers that can be found on Amazon.  Just make sure they are BPA free.  You will use 2 pumps per load .
Use Thieves Household Cleaner in a spray bottle or roller bottle, full strength or slightly diluted, as a pre-treatment stain remover, to help remove spots and stains on clothes. Just spray on or roll on stain, and let set awhile.
-If you have clothes that have a strong odor or are heavily soiled, you may need to use additional Thieves Laundry Soap and/or try adding a few drops Purification essential oil blend in the washing cycle.
-You can use your ER (Essential Rewards) points for the Thieves Laundry Soap and Thieves Household Cleaner and get them both for FREE!
THIEVES® LAUNDRY SOAP (#5349)- Retail: $38.82 USD / Wholesale: $29.50 USD
THIEVES® ULTRA-CONCENTRATED PRODUCTS
Save 24% off retail and get started with a Premium Starter Kit!——♦—♦—♦—♦—♦—♦——NEW TO ESSENTIAL OILS? Discover the Young Living difference here!New to essential oils?
Are you looking for safe, natural solutions for your health and wellness goals?
Click on the link above to learn a little bit more about them, and me, and how to live a healthy lifestyle by incorporating essential oils into your everyday life! I'm confident once you start using them on a consistent basis, you find yourself wishing you'd started using them long ago.